Sports + Adventures + Fun
Olympic Adventures Camp program
Join us for an action-packed week full of exciting and memorable camp experiences!  Learn or further develop your sports skills in age-appropriate activities across multiple sports and fun games: throwing,  kicking, passing, catching and running, hand to eye coordination, and footwork.
There are many sports-lovers in our Olympic Adventures Camp! It creates a special energetic spirit to unite all campers regardless of their pre-camp sports habits, with many participants trying new sports and continuing their new habits even post-camp!
Selected activities that are our Sports Stars are especially excited to participate in are:
Sport Stars Playground

Get more energy time with a mix of sports activities: basketball, dodge ball, frisbee, field hockey, target shooting and agility training through games and races. With such variety,  there is always an option to choose your old favorites or to try something new.

Olympic Imaginarium

and

Olympic Inventors Club

engage curiosity, presentation skills and out-of-box thinking.

Obstacle Courses

Race and conquer various obstacle levels! Ninja obstacle is our favorite one.
Creative

Scavenger Hunt

is the perfect way to incorporate a variety of fitness activities, improve agility, engage the intellect and just have fun.
Get ready for recognition and celebration of personal achievements at 

Camp Olympic Games

and

Talent Show
DiscoveryLand Camp is all about engaging children in a wide variety of activities that lays a foundation for developing skills across many different fields. On top of themed programs, the Olympic Adventures Camp's week is packed with a mix of action-based activities:
Racket Sports, Juggling, Craft, Splash Pad, Water Games, Young Leader, Scavenger Hunts and Outdoor Stem Activities, and of course, our favorite Camp Cheers, Camp Dances and Camp Songs!
Additionally, we host a Big Themed Event Every Friday for your child to participate in with their favorite costume from home.
By selecting a weekly Camp, your child gets to focus on improving respective skills with carefully selected add-on activities.
Find out when Olympic Adventures Camp is happening
SEE ALL ACTIVITIES for Olympic Adventures Camp:
Olympic Games
Olympic challenges, recognition and celebration of personal achievements to create an active lifestyle!
Olympic Imaginarium
Learn about the history of the Olympic Games. Create new rules and new sports. Learning traditions and creating our own!!
Olympic Inventors Club
Learn about inventions that changed the history of the sport. Create your own sports inventions and share them with friends!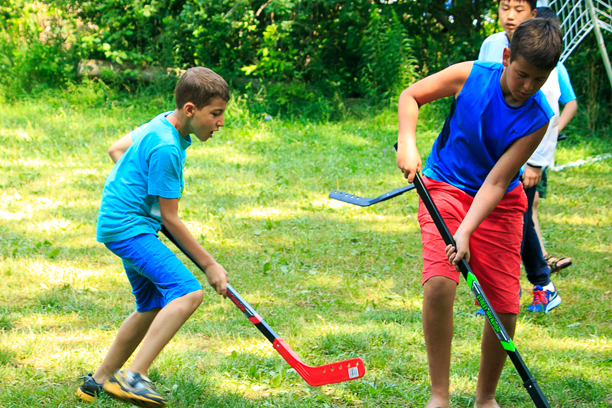 Sport Stars Playground
Master your skills in Field Hockey, Frisbee, Basketball, Target Shooting, Racing, Dodge Ball, Frisbee, and other active games!
Champions Costumed Carnival
Get ready for recognition and celebration of personal achievements!
Soccer
Build confidence with passing, dribbling and shooting. Where are our avid players ready for daily practice?
Sports and Wilderness First Aid for Kids
Learning basic first aid through scenarios. Building kids' confidence. Preparing them to help themselves and others in the future!
Obstacle Courses
Race and conquer various obstacle levels!   
Water Games
Cool down on a hot day with a water battle!  
Fitness/Yoga  
Yoga, Stretching, Gymnastics!
Team Leader
A Team Leaders will get a chance to lead a sports station or an activity, explain the rules and create new games!
Juggling
Learn how to juggle!
Outdoor STEM Activities
Build a stick maze, an outdoor solar oven, a shelter, or various other outdoor STEM challenges!
Scavenger Hunt
An outdoor scavenger hunt is the perfect way to explore the neighborhood park and train your observation skills!
Cooling Off Splash Pad 
Hop in for a splash, it's close by!
Craft
A great way to unwind and make a gift for friends and family!
Tennis, Pickleball, Badminton, Ping Pong
Daily racket sports practice to enhance hand and eye coordination and getting used to the variety of rackets and techniques!
Camp Cheers, Dances and Songs
Get the Champion Spirit Up!
Looking for a sports day camp in York Region or Toronto?  Outdoor summer camp with life-lasting benefits? DiscoveryLand Camp: 5 fun-filled themed programs for children ages 5 -12 near you created by camp experts. Area served: York Region, Toronto, Vaughan, Maple, Kleinburg, Concord, Sonoma Height, Vellore, Woodbridge, Thornhill, Aurora, King, Nobleton, Nashville, Richmond Hill, Markham, North York