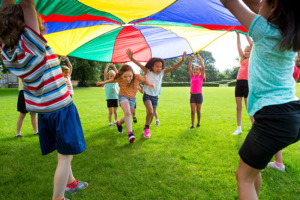 Enroll your child in a unique mix of  activities, just by filling out the Summer Camp Registration Form!
Each day at camp is packed full of activities! No two days at DiscoveryLand Camp are the same.
However, we do follow a general outline for our daily schedules.
A Day At Camp
8:50 – 9:30  Arrival and Greeting. Camp Cheers. Morning Stretches/Yoga. Choosing the Leaders of the day.
9:30 – 10:30  Stay Active Playground: Sports
10:30 – 11:00  Snack
11:00 – 12:00  Themed Activities: e.g. Treasure Hunt, Obstacle Course, etc.
12:00 – 12:30  Lunch
12:30 – 1:00  Recess Time
1:00 – 2:00  Water Games
2:00 – 2:30  Snack
2:30 – 3:30  Themed Activities: e.g. STEAM, Improvisational Drama, etc.
3:30 – 3:50  Camp Games
3:50 – 4:00  Sign-out
Extended care is available: Monday to Friday 8 AM to 9 AM, 4 PM to 5:00 PM
A sample day from the Secret Agents On a Mission Camp
8:50 – 9:15 Arrival and Greeting. Get ready for adventures: Camp Cheers!
9:15 – 10:00 Stay Active Playground: Soccer, Racket Sports, Frisbee, Target Practice
10:00 – 10:15 Snack
10:15 – 11:00 Secret Agents Treasure Hunt
11:00 – 11:45 Ninja Obstacle Course
12:00 – 12:30 Lunch
12:30 – 1:00 Relax: Free Play. Young Leaders missions
1:00 – 2:15 Cool Down at Splash Pad!/Water Games. Young Leaders missions
2:15 – 2:45 -Improvisational Drama: Revealing the secrets of super agents!
2:45 – 2:55 Snack
3:00 – 3:30 Outdoor STEM to complete the Secret Agents Task
3:30 – 3:50 Get dressed in costumes from home for the celebration of campers' achievements, Camp Dances and Cheers
4:00 Sign-out
We are proud to offer a well-balanced program
with many activities. Every day we encourage every child to choose and participate in the activities offered. Some outdoor programs are dependent on the weather and, even more importantly, on the willingness of our participants – alternative activities are available.
We do believe that POSITIVITY, INDEPENDENCE and PERSONAL DEVELOPMENT are a very important part of any summer camp. If we see that our campers are having a good time with a previous activity/ need a break/ enjoying independent playing with their peers – we are happy to adapt and change the program based on what is best for campers at that moment.
DiscoveryLand Camp is a SUN AWARE CERTIFIED CAMP. All of our counsellors go through the Sun Aware Summer Camp Certification. We are committed to sun safety by implementing the following best practices for all campers and staff:
Choosing a shaded play area where possible during peak sun hours from 10.30 AM to 2.30 PM;
Keeping the children well-hydrated, wearing sun hats and sun-screen while in the sun;
Having regular cool-downs and appropriate programs during those extra hot days.
Both our Thornhill Camp and Woodbridge Camp in Vaughan are in close proximity to local parks, sports fields, tennis courts and splash pads.